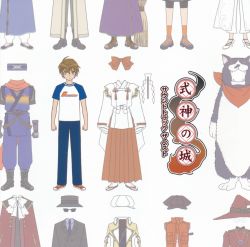 Shikigami no Shiro Soundtrack The Best (式神の城 サウンドトラック・ザ・ベスト) is a arranged soundtrack release, featuring music from all the three main titles in the Shikigami no Shiro series. The arrangements were done by Shinji Hosoe, best known for his work on Namco and CAVE.
The soundtrack's cover art shows Kohtaro Kuga in his Shikigami no Shiro outfit (minus the jacket) and the outfits of the series' other playable characters, excluding Munchausen and Tagami's outfits and including a costume based on Neko, Niigi Gorgeous Blue's cat.
Tracklist
Edit
Strange Ability User Selection
July 23rd - 0 Hours 12 Min
July 23rd - 12 Hours 9 Min
July 23rd - 18 Hours 35 Min
July 23rd - 23 Hours 5 Min
Theme of Shikigami
universe
menace
gale
chaos
fate
final
metempsychosis
In the Heavens
An Obstacle
Arrow
Low Drive
Opalescence
In to a Core
Phases of the Moon
flying (FROM Shikigami no Shiro II)
Ad blocker interference detected!
Wikia is a free-to-use site that makes money from advertising. We have a modified experience for viewers using ad blockers

Wikia is not accessible if you've made further modifications. Remove the custom ad blocker rule(s) and the page will load as expected.