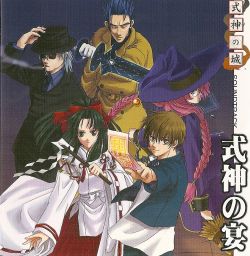 Shikigami no Shiro SOUNDTRACK: Shikigami no Utage (式神の城 サウンドトラック 式神の宴) is a official soundtrack release for the first Shikigami no Shiro. The music was composed by Youichi Shimamura.
Tracklist
Edit
July 23rd - 18 Hours 35 Min [Re-Mix]
Special Crimes 568th Division Investigation Commencement
Strange Ability User Selection
July 23rd - 0 Hours 12 Min
July 23rd - 5 Hours 27 Min
July 23rd - 12 Hours 9 Min
July 23rd - 18 Hours 35 Min
July 23rd - 23 Hours 5 Min
Blue - Goddess - Black Moon
Thus the Gate Opens
6th World Region Work Group - Member Registration
Skill Evaluation
Evil Dream
Theme Of Shikigami
Kotaro Kuga
Sayo Yuki
Gennojo Hyuga
Fumiko O.V.
Kim de John
Miyoko Aku
Shu Fujishima
Hiroshi Aku
Bauman Aku
Girl
Ad blocker interference detected!
Wikia is a free-to-use site that makes money from advertising. We have a modified experience for viewers using ad blockers

Wikia is not accessible if you've made further modifications. Remove the custom ad blocker rule(s) and the page will load as expected.