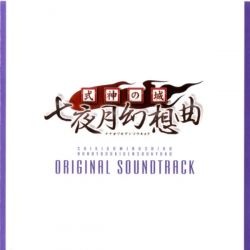 Shikigami no Shiro Nanayoduki Gensokyoku ORIGINAL SOUNDTRACK is the official soundtrack release for Shikigami no Shiro Nanayozuki Gensoukyoku. The music was composed by Youichi Shimamura, Kota Nakashima and Takuya Yasuda.
Tracklist
Edit
Nanayoduki
Let's Be Enthusiastic
World Movement
Secret Maneuvers
Belief
Tanabata
Melon Frappe
Mystery
Dancing
Friends
A Girl's Request
Moonlit Night
Nothingness
Last Words
Rushing
New Moon
Clash
Twilight
Ad blocker interference detected!
Wikia is a free-to-use site that makes money from advertising. We have a modified experience for viewers using ad blockers

Wikia is not accessible if you've made further modifications. Remove the custom ad blocker rule(s) and the page will load as expected.