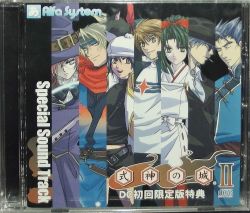 Shikigami no Shiro II Special Sound Track is a special soundtrack release for Shikigami no Shiro II, which was included as a bonus with the Limited Edition of the Dreamcast release of the game. It included the music of the game as well as all of the original voiceovers.
Tracklist
Edit
Theme Of Shikigami
flying
trial
encounter
universe
menace
abyss
gale
chaos
whirlwind
approach
determination
miturugi
fate
final
end
metempsychosis
memory
reborn
Kotaro Kuga
Sayo Yuki
Gennojo Hyuga
Fumiko O.V.
Chibi-Fumiko
Kim de John
Niigi Gorgeousblue
Roger Sasuke
Arala Cran
Anolegos Dundeon
Say Aja
Fai Aja
Yukari Horiguchi
Shintaro Kuga
World Order 1
World Order 2
World Order 3
Ad blocker interference detected!
Wikia is a free-to-use site that makes money from advertising. We have a modified experience for viewers using ad blockers

Wikia is not accessible if you've made further modifications. Remove the custom ad blocker rule(s) and the page will load as expected.