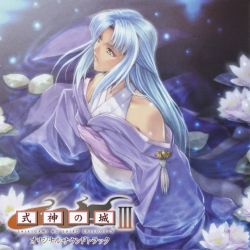 Shikigami no Shiro III Original Soundtrack (式神の城III オリジナルサウンドトラック) is a official soundtrack release for Shikigami no Shiro III. The music was composed by Youichi Shimamura and Kouta Nakashima.
Tracklist
Edit
Theme of Shikigami a Reprise
Theme of Shikigami a Reprise2
In the Heavens
An Obstacle
Flower's Jam
Raging Torrent
Arrow
Low Drive
Cold Breeze
Opalescense
Howl
In to a Core
Phases of The Moon
Phases of The Moon ver.2
Ending...
Rest Oneself
Flying S3MIX
Universe S3MIX
Abyss S3MIX
Whirlwind S3MIX
Miturugi S3MIX
Game Over
On Reflection
Staff Roll
In the Heavens Re-Mix
Ad blocker interference detected!
Wikia is a free-to-use site that makes money from advertising. We have a modified experience for viewers using ad blockers

Wikia is not accessible if you've made further modifications. Remove the custom ad blocker rule(s) and the page will load as expected.